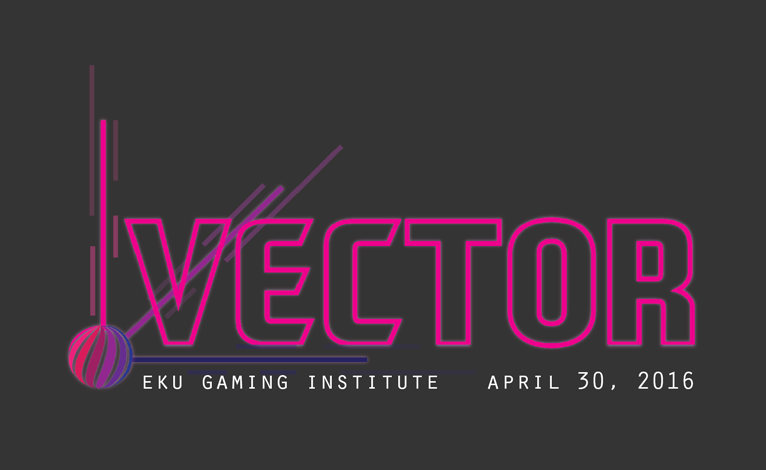 RunJumpDev is proud to announce a partnership with the EKU Gaming Institute to present Vector: Directions in Game Development. The event will be held April 30, 2016.
Vector is an upcoming game conference to be held at Eastern Kentucky University in collaboration with the EKU Gaming Institute, the Richmond office of the Kentucky Innovation Network, and TechBase10. Vector is a celebration of local developers, and a chance for them to network with leaders and peers ​in the field of game design and development.
At this time, we are announcing a call for roundtable topics. These are going to be informal discussions about a specific topic or field related to game development and we're interested to hear from the community about what discussions they would want to participate in or lead. You can express your interest in this Google Form, or contact RunJumpDev if you have any questions.
The key features of Vector are a desire to promote game development in the Bluegrass Region through networking and discussion. We want conference attendees to be able to learn new things about game development from established developers, play games from their peers in a collaborative environment, and to network with people from the region and around the country. Through the help of game development programs like the ones offered at Eastern Kentucky University as well as the community support of business organizations like Kentucky Innovation Network, the region has helped to incubate a growing number of game companies. Vector is a prime time to expand and demonstrate the support of these community organizations to technology leaders and influencers.
For more, follow us at @vectorconf on Twitter or visit vectorconf.com for announcements and up-to-date information.
EKU Gaming Institute
The Eastern Kentucky University Gaming Institutes focuses on the design, development and publication of video games within an academic context. Through this program, EKU is now home to the first bachelor's degree focusing on game design in the state. EKU Gaming Institute is responsible for sending several of their students on to internationally recognized conventions as well as bringing in a series of talented speakers for instruction.
RunJumpDev
RunJumpDev is a people-powered nonprofit created to grow and cultivate the local game development community in Kentucky. Founded in Lexington, KY in 2011 to help both established local businesses and passionate amateurs. RunJumpDev regularly hosts community events, including meetups, talks and game jams to help bolster skills and connections in the community at large.
Kentucky Innovation Network
The Kentucky Innovation Network was established in 2001, creating a network of business leaders and mentors that encourage relationships, grow companies new and existing and create jobs. The Network is managed in partnership with the Kentucky Cabinet for Economic Development and Kentucky Science and Technology Corporation, along with local partners.